Kids Club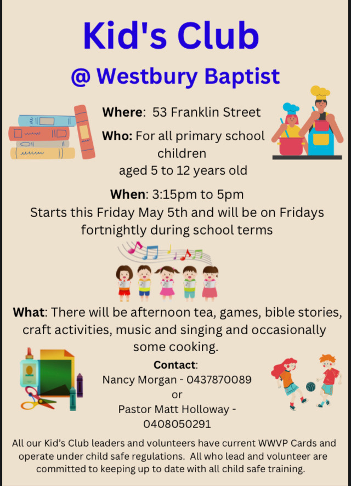 Family Movie Night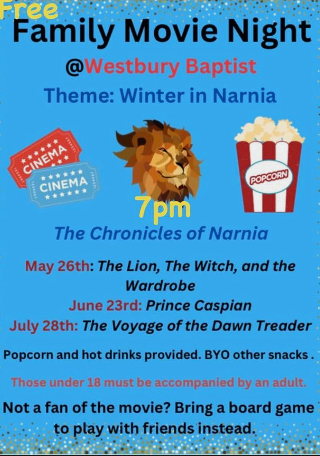 Chat 'n Choose
Chat 'n Choose is held Thursdays 9.30am -12.00am during school terms.
The group of around 13-14 women (currently) work on their own craft projects.
Occasionally, specialist classes are held to teach specific skills.
Chat 'n Choose is informal, flexible and an opportunity to chat/have a cuppa and work on your craft activity.
The cost is $2.00 to cover morning tea. During morning tea, you can expect a brief 'devotional' of several minutes presented by the Pastor, the School Chaplain or one of the organisers.
If interested, either turn up at the Baptist Church, 53 Franklin St. Westbury or contact Mary Baker by email on info@westburybaptistchurch.org.au
All are welcome to attend.
Fellowship Groups
Fellowship Groups are uniquely placed to allow members to get to truly know and support each other in the context of sharing hospitality, studying the Life of Jesus and praying together. In general, these groups are 'hospitality' and 'home based' and members meet in their homes and share a meal or a cup of tea together.
If demand necessitates, then it may be the case, that Fellowship Groups will be formed to meet at the Church.
Chaplain Westbury Primary School
The chaplain at the local Westbury Primary School is supported by the Westbury Baptist Church in general and more specifically by catering for dinners on an average of once per month at the Westbury Rotary Club Meeting.